Welcome to our new and improved website. If you haven't been here before, welcome to our website!
As a busy community venue it's important that we let people from Melbourne and beyond know what's going on here. Take a look at our Upcoming Events section and you'll see all the great events that are coming up and you can buy your tickets online for most of them.
If you don't want to keep coming back to find out what's going on sign up to our mailing list and we'll keep you posted. We won't bombard you with emails, if you don't want to keep hearing from us you can unsubscribe and we will never share your email with any other organisation.
If you need to rent a room, or just see what activities are planned, take a look at our calendar. You can't book a room online because we have to make sure the room is right for you. Believe us, you don't want to try and run a relaxation class next door to a Zumba session! Find out more about the spaces in the Our Rooms section, check availability in the calendar then give us a call.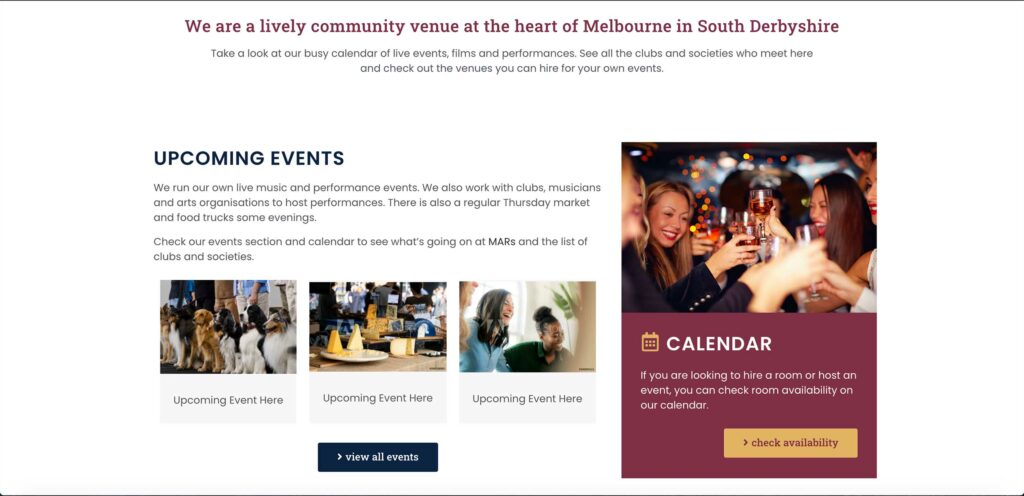 Our site was designed and built by Claire at MacMartin Creative, supported by Andy at Initial IT. We can recommend both companies if you have projects of your own. The video elements were created by James Didlock, our intern from the University of Derby, with thanks to Gordon Hughes for the spectacular drone shots.
The photos have been provided by many people and we would like say thank you to them all. We have sought permission to use all the photos on the site and permission from all the people in them. If you are in a picture and we have not been given your permission – sorry. If you are happy for us to keep using your image please email us and say so. If you are clearly identifiable and are not happy, please contact us and tell us exactly where on the site your image appears and we will remove or obscure it.